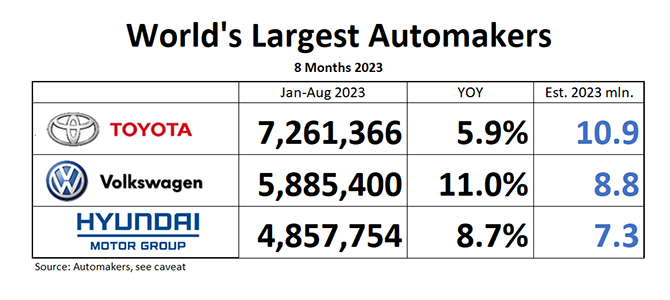 Remember how, year after year, supposedly smart and learned people predicted the impending death of "legacy automakers?"  Now look at the picture above.  With the COVID and chip crises behind them, world's largest automakers are in full growth mode.
World's largest automaker, Toyota Group had a record August with worldwide sales up 9.45%. Its year-to-date global sales rose 5.9%. The company is poised to book global 2023 sales in excess of 10 million.
Volkswagen Group continues to clear its cobwebs. Its global year-to-date deliveries were up a whopping 11%.
Hyundai Group continues its steady climb to the top. Imagine, a year ago the formerly impressive Renault-Nissan-Mitsubishi Alliance was still in their place. Remember them?