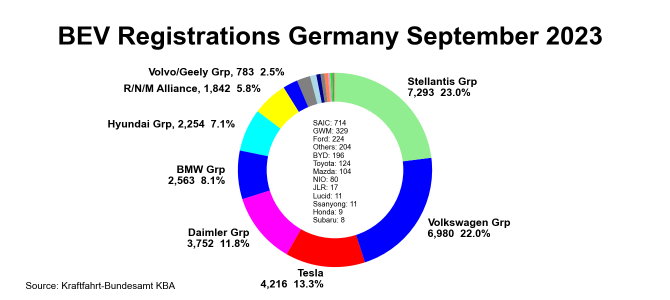 September brought hangover-induced headaches for the German BEV market. After wild partying in the months before, German BEV registrations dropped 28.6% YOY in September as subsidies for BEVs bought by businesses had expired.  In the previous month, BEVs sales were up a whopping 171% YOY for a 31.7% share, beating all other powertrains, even gasoline (27,6%). In September, the BEV share dropped to 14.1%
Further migraine was caused at Volkswagen Group, because Stellantis Group sold a few more BEVs into the German market than the German behemoth. Stellantis's strength was mainly powered by strong sales of battery-powered Opel cars, namely the Corsa and Mokka.  Tesla registrations, down 69.3% YOY were hit hard.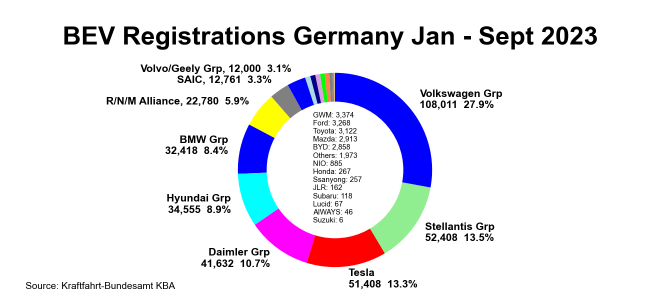 Year-to-date, the picture is less dramatic, with Volkswagen Group in the lead as usual, followed by Stellantis Group, and Tesla in place 3.
For the rest of the year, a repeat  of the run on BEVs is highly unlikely. More than half of the cars registered in Germany are in the hands of businesses, pricier segments are nearly exclusively  bought as company cars. The business-part of the market is highly unlikely to buy many BEVs for the rest of the year.