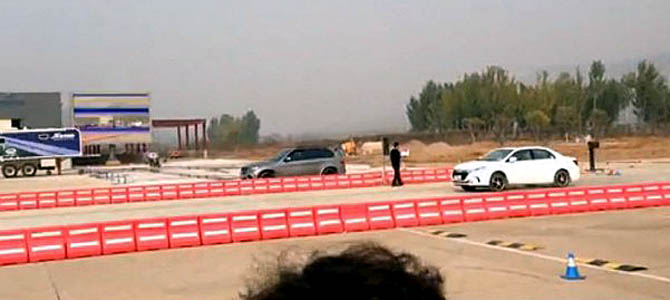 Over the past weeks, the BYD Qin has entertained China's car-crazed population by beating the doors off supposedly powerful competition on a drag strip near Beijing. Car after car was left in the dust by a BYD Qin that previously was only known as a rather tame plug-in hybrid. Its fame lasted until the Qin finally met a faster car: A 555hp Twin Turbo V8 BMW.
"The BYD Qin is the ultimate Q car," writes Chinacartimes. com, which has documented a long list of Qin wins. "From the outside it's just a three box sedan that is reminiscent of the BYD F3 on which it is based which itself was cloned from a Toyota Corolla except the Qin is more fit for 21st Century roads. Inside the Qin however is a 1.5T 150BHP engine which may not sound like much, but its also paired with an electric motor that drives the rear wheels – both engines can be engaged at the same time to give a maximum power of 303BHP."
Chinacartimes: "Here's the video of the Qin showing the 350Z who's the boss."
Chinacartimes: "Here's the video of the Qin giving the Passat CC 3.6L an utter pasting."
Chinacartimes: "Here's the video of the 5th Gen Golf GTI struggling to keep an even level with the Qin."
Finally, today, the Qin was trounced. It needed a BMW X5M to be put in its place. Chinacartimes sums up the not so subliminal message:
The X5M was last available as a 2010 model in the Chinese market with a 4.4L Twin Turbo V8 engine under the hood producing 555bhp and at the time costing just over 2 million RMB, the Qin on the other hand is expected to be around 200,000RMB so the Qin's loss is still respectable.