Sales of for new passenger cars in the EU rose 5.5 percent in January, "for the fifth consecutive month," as Europe's auto manufacturer association ACEA says. Most likely, the news will be feted as a big turn-around by the media and certain pale-around-the-nose carmakers that need every ray of hope. Another message by ACEA will most likely be overread: "However, in absolute figures, the total of 935,640 units registered marked the second lowest result to date for a month of January since ACEA began the series in 2003 with the enlarged EU."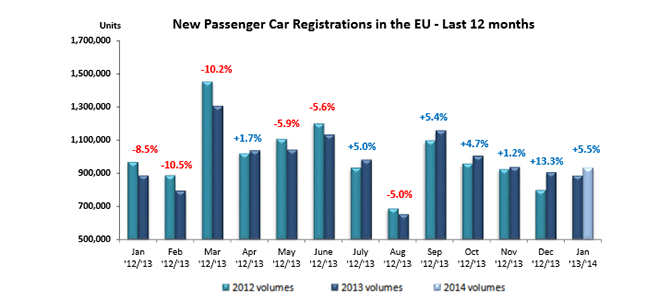 Europe is leveling off at best, compared to 2013 where the end of the EU was expected by many. Double-digit growth comes from EU members that for all intents and purposes had stopped buying cars a year ago: Greece, +15.4%, Portugal, +31.8%, Ireland, +32.8%, Slovakia, +24.8%.
Growth in Europe's volume markets remains restrained: +7.6% in the UK and Spain, +7.2% in Germany, +3.2% in Italy and +0.5% in France. Germany is going through a widely overlooked boom, real estate prices are at bubble level, and that's the best it can do?
Among Europe's largest automakers, Renault, +13.4%, Volkswagen, +8.9%, and – surprisingly – PSA with 7.4% are exceeding the market. Problem children GM (-5.3%) and Fiat (-2.1%) are continuing on their downward spiral.
As predicted many times, Europe's new stars are the bargain brands. Renault's Dacia is up a whopping 38.9 percent, Skoda is up 10.9 percent. Dacia, which started the no frills craze in Europe outsells Chevrolet 3:1. The premium end OTOH is soft: BMW, +0.5%, Daimler, -0.6%. The premium-buying demographic is retiring en masse in Europe, snapping-up distressed-priced real estate in Spain, and occasionally adding to SEAT's rebounding (+7.7%) sales. The younger age groups are less populous than the bulging boomers, they have no money to waste, or often no money at all.
As surely as this January was the second-worst in written EU auto buying history, the future is in the cheap skates. Full table with January data here.