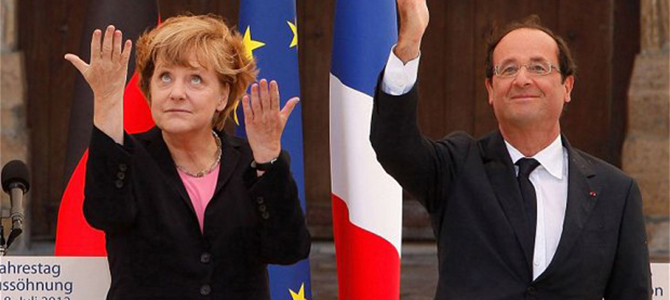 From one day to the other, Europe appears to throw the switch from being EV-skeptics to becoming all-out EV-fanatics. Diesel, the highly popular propulsion in the Old Country, is being turned into a villain and chased off the streets, and there is sudden agreement that the streets belong to battery-electrics.
In Germany, Volkswagen's head of powertrain development, Dr. Heinz-Jakob Neusser, said that plug-in hybrids and fuel cells are just a "bridging technology" to fully electrified cars, powered by new batteries with "more electrical density than before." He sees them arrive in a similar time-frame as Nissan/Renault's Ghosn, namely "2015-16."
Not quite coincidentally, Germany's usually tightfisted austerity chancellor, Frau Angela Merkel, is backing "incentives to meet a goal of having 1 million electric cars on the country's roads by 2020," as Bloomberg wrote. Suddenly, Berlin is talking subsidies and tax breaks, where up until now, EV-enthusiasts would get out of Berlin nothing more than words of encouragement. German auto manufacturers will offer 17 electric models by the end of 2014, and another 12 will go on sale next year, Germany's manufacturer association VDA told Bloomberg.
By mid-2014, EVs had a share of 0.3 percent in Germany, which was an improvement over the 0.2 percent in the year before.
Neighboring France has been more generous with handouts. Consumers receive as much as 6,300 euros ($7,840) to help cover the higher cost of low-emission vehicles. Around 3 percent of newly bought cars in France are hybrids or pure EVs. Not enough at all, says the French government.
You probably heard by now that "France is planning to eliminate diesel-powered cars." This is the usual Fox News exaggeration. Reuters has a better and more correct piece. The French government has its sights on oilburners, but nobody will ban them from the streets just yet. Diesel fuel will see a slightly higher tax, and there will be stickers to identify the most polluting cars so that they can be kept from the streets when and where needed – not in all of France, but in certain cities. Similar systems have been in use for quite a while in Germany, Austria and Denmark. With a bonus of up to 10,000 euros ($13,500), France wants to entice drivers to switch from diesel to electric.
Two days ago, the mayor of Paris proposed that diesel cars should be banned from the French capital by 2020. London and Paris rarely agree, but in that case: London Mayor Boris Johnson followed the announcement by saying London's congestion charges should be raised by almost 13 euros for diesel cars. According to Euronews, "campaigners say this is not enough to improve air quality and are calling for an outright ban on diesel engines." Citywide bans on diesel are nothing new in Europe. In Athens and Thessaloniki, diesel cars were banned since the early 90s, only to be let back in by 2012.
A German/French friendship when it comes to BEVs and the long-term death of diesel is likely to change the regulatory landscape all over Europe. Automakers and governments think that the EU's aggressive emission targets can only be met by a big shift to pure electrics. This means a huge change in buying habits. In France, 67 percent of new cars bought in 2013 were diesel-powered (not 80% as reported elsewhere.) In Germany, diesel has a share of around 48 percent.
The shift from gasoline to diesel was gradual during the past three decades, helped by slightly lower diesel prices due to lower taxation. Later, diesel was given a green image, because it provides better mileage. Engine improvements and particle filters helped clean up the exhaust, apparently not enough.
While Germany's automakers are quickly gearing up to partake in the sudden electric bonanza, Europe's long-term electric trailblazer Renault/Nissan is betting on bringing its broad market presence and share of the electrified mind to bear. Said CEO Carlos Ghosn:
"For the foreseeable future, there's little doubt battery EVs will remain the most practical and affordable zero-emission option. The biggest advantage of battery EVs is that they can tap into existing electric infrastructure, compared with hydrogen fuel-cell electric vehicles, which need an all-new infrastructure."
Oddly, even Volkswagen agrees.