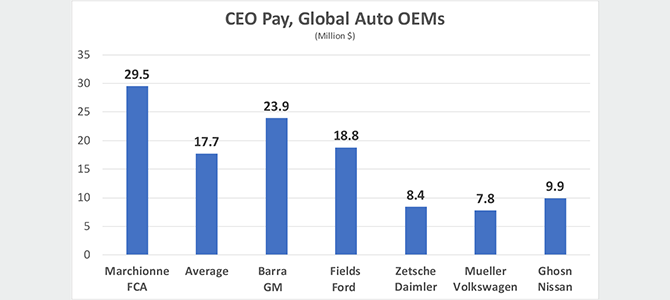 Nissan's annual shareholder meeting is as uneventful as most of them. Nonetheless, it remains one of the highlights of the Tokyo auto beat, if only because at the meeting, the annual pay packages of the world's top auto industry CEOs are exposed.
If you went to the Pacifico in Yokohama, where the meeting was held this morning, then you could witness old traditions being upheld. Shareholders with questions were selected at random, as always. As always, a shareholder questioned the pay of now Nissan Chairman Carlos Ghosn. As always, Ghosn answered that Nissan is a global automaker with a world class multicultural team, and that such a team must be paid in tune with other OEMs, or else it will be snagged by a more generous competition.
And as always, a Nissan flack appeared on cue in the balcony where the reporters were kept, and the traditional handout with a compilation of CEO compensations was distributed. Nissan traditionally retains the Willis Towers Watson consultancy, which supplies the handy table each year.
On this table, Ghosn makes a rather sedate $9.9 million a year, while Fiat Chrysler's Sergio Marchionne tops the list with an obscene $29.5 million.
Also traditionally, it went unmentioned that Ghosn collects another $7.8 million salary as the CEO of Renault, along with a so far unknown salary as the Chairman of Mitsubishi. Added together, Ghosn's pay is right there with the average salaries of captains of the auto industry. And why not.
As tradition wants it, Nissan shareholders approved the recommendations of management by acclamation, and the meeting was adjourned.