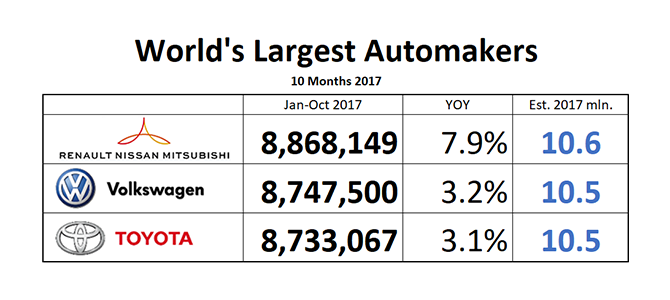 Come-from-behind Renault-Nissan-Mitsubishi Alliance continues to amaze. Only a major disaster can keep it from ending the as World's Largest Automaker. Not even a small disaster in Japan could sufficiently dent the Alliance's chances. Volkswagen and Toyota will fight neck-and-neck until the last minutes of the year.
With all October numbers reported by all OEMs, Volkswagen edged past Toyota by a thin hair to take the number two position. The distance between VW and Toyota is only 14,400 units, about a half day's work for either of them. The lead of the #1 positioned Alliance is way more serious. The Alliance is ahead by more than 120,000 units, a distance that will be very hard to make up with only two months to go.
In November, Nissan's overall sales in Japan were down 27%, because the company had to stop its Japanese production for a few weeks due to a frankly ridiculous red tape problem. The Japanese brouhaha will be a drain on the Alliance for the rest of the year. While the loss of a few tens of thousands in Japanese sales is not significant enough to cost the Alliance's lead, it stunts Nissan's growth. YTD, Nissan's production grew only 5.9%, compared to more than 10% for both Renault and Mitsubishi Motors.
Carlos Ghosn predicted that the Alliance would be the world's largest automaker, and it looks like his wish will come true. What is also pretty much a given is that by year's end, we will have three automotive groups with more than 10 million units to their names.
Note: This analysis attempts to track production, not sales, because this is how the world automaker umbrella organization OICA ranks automakers. Last year, OICA crowned Toyota as world's largest, after it was widely reported that Volkswagen had won.
Due to the different methodologies of their measurement, "sales" numbers have proven to be unreliable, and prone to 'sales reporting abuses," as recent scandals in the U.S., along with rampant "self-registrations" in the EU have shown.
At the same time, data reported by automakers are becoming increasingly hard to compare.
Toyota reports production only. Volkswagen reports "deliveries" to wholesale – which is, at least for this exercise, close enough to production. The Alliance numbers are a blend of production data reported by Nissan and Mitsubishi, and deliveries reported by Renault.