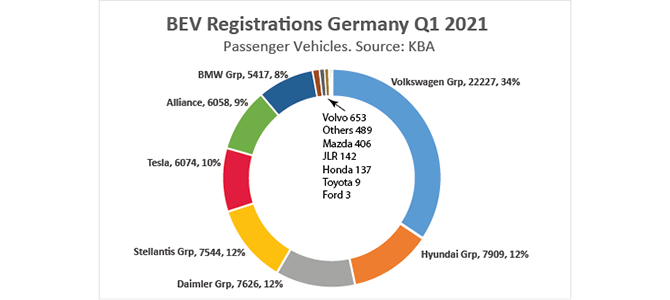 Remember how "legacy auto," a.k.a. " the dinosaurs," were pronounced near extinction, disrupted by Tesla et al? Just the opposite is true. Not only are news of their demise quite fake, the dinosaurs are beating the newcomers on their green turf, namely battery electric cars.
Let's have a look at Germany, EU's largest auto market and home of some of the world's largest carmakers.  Driven by stringent EU regulations, and juiced by generous incentives, Germany's share of Battery Electric Vehicles (BEV) has grown to 10% in the first quarter of 2021, data of German regulator Kraftfahrtbundesamt (KBA) show. Even higher is Germany's 12% share of Plugin Hybrid Vehicles (PHV). Taken together, nearly a quarter of Germany's newly registered passenger vehicles could be filled up at the wall socket.
And who's selling these vehicles? Nine out of ten BEVs, and ten out of ten plug-in hybrids, are made and sold by the alleged dinosaurs.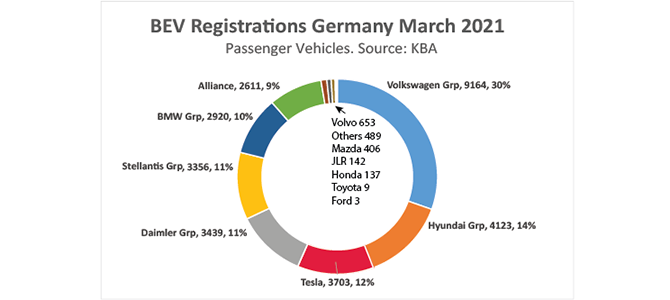 Tesla, the Californian carmaker that was supposed to up-end the traditional auto industry, reached only a 9% first-quarter market share in the booming German BEV market. In March, the share was 12%, reflecting Tesla's tendency to frantically "make the quarter." Expect the traditional hangover in April.
Volkswagen Group is dominating the German BEV market with a share of 34%, Surprisingly, and often overlooked, Volkswagen is followed by Hyundai/Kia with a 12% BEV share. Embarrassingly, the Renault-Nissan-Mitsubishi Alliance, a pioneer in the electric field, ranks behind Tesla by a few units.
The rising electric star definitely is Volkswagen. Before long it won't only be world's largest automaker (neck-on-neck with Toyota) but also world's largest maker of electric vehicles. With more than 100 factories worldwide, Volkswagen won't be able to claim capacity constraints, should it fall behind.