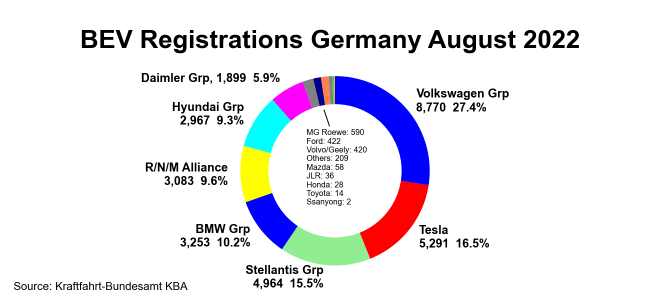 After two disastrous months in Germany, Tesla came back with a roar, and dumped 5.291 units onto the German market in August, which gave it a share of slightly over 16% of the burgeoning German market for battery-electric vehicles. It just so happened that in the same August, total German BEV registrations burgeoned to slightly over 16% of all passenger vehicles. Good on Tesla that it is regaining footing in Germany, after all, German BEV sales were up nearly 11% in August, while the total new car market was up only 3%.
In August, Tesla was the 2nd largest seller of BEVs, after Volkswagen group which garnered slightly over 27% of the German BEV market.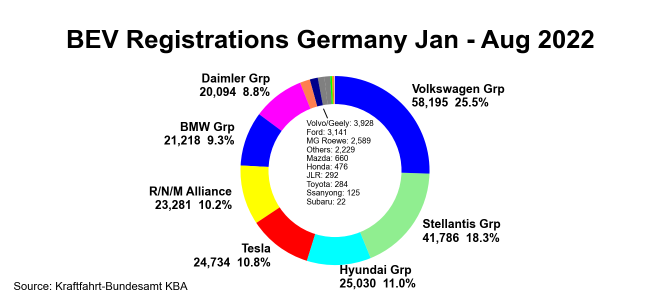 As we all know, a month doesn't make a year just yet. January through August, Tesla's share of the German BEV market stood at slightly below 11%, in 4th place behind Volkswagen Group, Stellantis, and Hyundai.
And why should you care about BEV sales in Germany?
Germany is not only Europe's largest car market, it also is (by far) Europe's largest market for BEVs. Germany also is one Europe's hottest BEV markets. Most of all, Germany has Europe's largest concentration of automakers. If you want an early view of where the EU car market is heading, look at Germany, and don't let yourself be sidetracked by data from Norway.