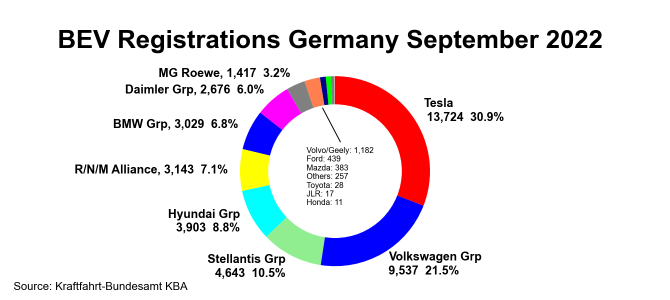 In the month of September, Tesla increased the tempo it had picked up in August, and overran the German BEV market with an unprecedented onslaught of Chinese- and German-made Teslas.  All in all, Tesla managed to have 13,724 Model 3 and Model Y registered, that's more than half of Tesla's German 24,734 deliveries in January through August.  Tesla also can be proud of having outsold every other model sold in Germany in September. Tesla's Model Y kicked Germany's perennial top seller, Volkswagen's Golf, from its #1 spot. Model Y 9,846 : Volkswagen Golf 7,095.
We all are used to Tesla making a big, often desperate push by the end of the quarter, followed by a hangover in the next month. This was the mother of all pushes.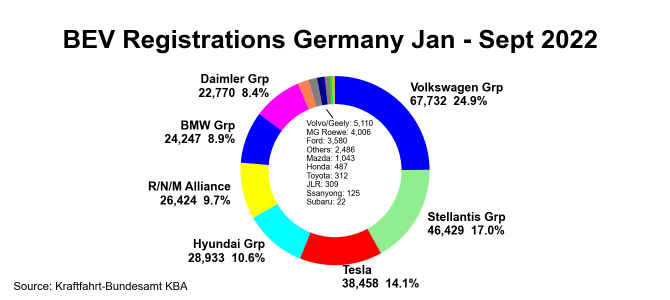 Of course, a month doesn't a year make. January through September, Volkswagen maintained its commanding lead in the burgeoning German BEV market. German BEV sales were up 32% in September, compared to the same month in the previous year. Nearly 20% of all passenger vehicles registered in Germany in September were BEVs. Volkswagen was followed by Stellantis, with Tesla in the #3 slot. Year-to-date, Volkswagen's Golf remains firmly in its throne as Germany's best-selling car, with 63,104 units over Tesla's 22,555 Model Y.
Another interesting tidbit: China is beginning to invade the German BEV market not just behind the Tesla flag. China's SAIC, an important joint venture partner of Volkswagen, suddenly sold more than 1,000 of its M5 BEV in Germany in September,  and grabbed 3.2% of the German BEV market, coming in right behind Daimler.  More gains are expected in the coming months.
And why should you care about BEV sales in Germany?
Germany is not only Europe's largest car market, it also is (by far) Europe's largest market for BEVs. Germany also is one Europe's hottest BEV markets. Most of all, Germany has Europe's largest concentration of automakers. If you want an early view of where the EU car market is heading, look at Germany, and don't let yourself be sidetracked by data from Norway.