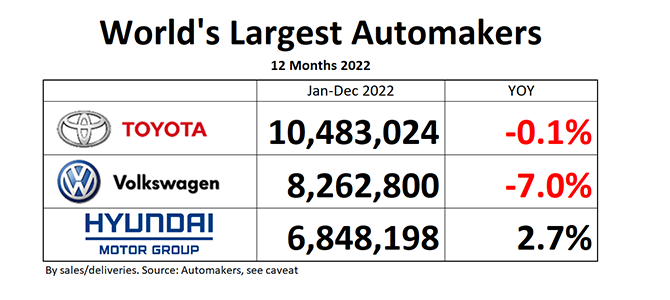 As predicted by Dailykanban as early as May last year, Toyota Group is world's largest automaker for the year 2022, and it is a repeat succeeder. Toyota topped the leaderboard in 2021. Toyota was world's largest in sales in 2020.  Toyota was edged-out by formerly vibrant Volkswagen in 2019 by only 250,000 units. Consistency and continuity, that's Toyota. Despite COVID, chip shortages, and shooting wars, Toyota Group sold 10,483,024 units around the world in 2022, coming in only a smidgen below the sales in the prior year.
Also consistently and continuously, many alleged auto experts have been forecasting Toyota's impending doom for as long as Toyota led the industry, simply because it hasn't hopped on the battery-driven bandwagon. Volkswagen has, and it ended the year 2.2 million units behind Toyota. Volkswagen also ended the year with a new CEO, because the old one, a declared friend of batteries, and a fan of Tesla's Elon Musk, was fired.
Toyota's ichiban battery skeptic, Akio Toyoda, stepped aside last week to take the less demanding Chairman post. He's been under a lot of pressure to join the global battery stampede. Toyota announced in 2017 that it is serious about batteries, and it said it again in 2019, and by the end of 2021, Toyota, the company that would never ever "comment of future vehicles," put 18 allegedly future battery-electric vehicles in front of the cameras of hordes of reporters, and it announced that it will have 30 battery-electric models by 2030. However, as in the years before, there was little follow-through. Usually well-informed Tokyo rumor has it that Akio Toyoda was urged by his board to demonstrate some passion for BEVs, and as a result, Toyota's studios across the globe were raided for design studies, and whatever was scrounged-up was put on stage at Tokyo's Megaweb for the December 2021 event. It was mostly for naught, the hoped-for boost to Toyota's fading green creds didn't happen. Which was just as well. 10,483,024 units sold by Toyota in 2022  show that the company's customers don't miss BEVs a lot. A good chunk of the 10,483,024 units are hybrid and plug-in hybrids, which currently do more for the environment than BEVs charged with fossil fuel electricity. Toyota, the prototypical legacy automaker, again is the world's largest, while Tesla, the prototypical champion of batteries, had to resort to fire sales to move the metal.
In the number two position, a whopping 2.2 million units behind Toyota, is Volkswagen with worldwide group sales 7% below the year before. Earlier in the year, VW's performance was much more alarming.  Under Volkswagen's new CEO Oliver Blume, a few grand plans for future BEVs were shelved, and sales picked up. All of which goes against the widespread conviction that BEVs will take over the world, and that legacy automakers are just about dead.
In the number three position is South Korea's Hyundai Group, an automaker that has made many correct decisions, and who was rewarded with growth where others racked-up losses. In the new year, the Hyundai Group plans to increase its global sales by nearly 10% to 7.5 million units. If Volkswagen won't put down the pedal, Hyundai could beat it in 2024.
Finally, we are able to say good riddance (as far as the leaderboard goes) to the fraught and frazzled Renault-Nissan-Mitsubishi Alliance. Dailykanban will start tracking them again once they are past Hyundai. Any bets on when? The presumptive Alliance ended the year down 19.5%, with some 6.3 million units delivered. The companies also announced today what amounts to a separation in stages, with 15% cross-holdings between Nissan and Renault.
And now for the usual disclaimer:  Daily Kanban ranks world's largest automakers by sales, as reported by the automaker. We used to determine the largest automaker in the world by looking at production, because this was how the global automaker umbrella association OICA had done it in the past. OICA seems to have thrown-in the towel, and you no longer will find any recent auto manufacturer rankings on the previously authoritative OICA website, neither by production, nor by sales. Reliable production data are harder and harder to come by, forcing us to switch to sales/delivery data published by automakers. Be aware that "deliveries" can be a rather elastic term. Deliveries can be sales to end users, or cars dumped on dealer lots, or cars "delivered" to sales organizations, or combinations thereof. Mitsubishi Motors does not disclose global sales, global production is used as a proxy.